---
JCMC: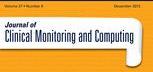 Visit us on:




Other congresses:



ICISA 24th


CPP 2016

Other societies:


PAICSAT
ESCTAIC Medical Hardware/Programming Competition.

Some preliminary information...

Hopefully current and new ESCTAIC members interested in various medical related IT would take part.

Hardware could include Raspberry pi, mobiles and computers.
Software could include mobile apps, scripting software, AI.

The competition:
Free entry.
The competition closes the first week of November.
Winners will be be announced prior to the Zurich congress.
Winners may present project at Zurich (Realtime/Zoom meeting).
Projects of note could be entered on a ESCTAIC web page ESCTAIC Medical Programmers library.
Entries should be applicable for use in health care.
Each entry must be original.
A minimum number of entries must be present for the competition to take place.